Zapis je na voljo tudi v slovenščini
Since our last webinar, the world has turned upside down. Fortunately, we can still host online events, and because we want to keep helping you educate yourselves during social distancing, we're continuing our monthly webinars.
Last week we had the privilege of hosting Seamus McGrath, Senior Partner Sales Manager at Drift, the leading platform for conversational marketing. Seamus made it very clear that conversational marketing is crucial also in the B2B context. After all, "every sale starts with a conversation," he emphasised throughout the session.
Don't worry if you missed the live webinar – you can watch the recording anytime. But for now, here are 3 important takeaways:
1. Customers don't like waiting
In today's world, consumers are used to getting things instantly. We live in an on-demand economy, where consumers have their needs fulfilled in real-time, or at least much sooner than they could in the past.
We no longer have to queue at the book/video store, thanks to Amazon and Netflix. We no longer have to wait for a taxi, thanks to Lyft and Uber. Seamus has given these examples to remind us what they have in common: they allow us to buy products and services more easily and conveniently than ever, and most importantly, without waiting.
"Today, customers have more options and information than ever before in history", says Seamus. "Whoever makes it easier for customers to buy, wins."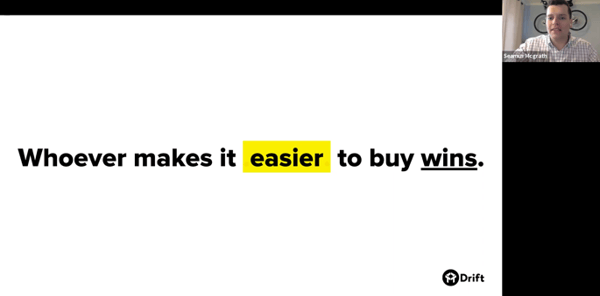 2. Conversational marketing connects you with people who are ready to buy NOW
Seamus asked us to think of your B2B website as a retail store. Someone comes in, looks around and leaves the shop without making a purchase. Would you call them a few days later to ask if they need help with anything? Highly unlikely.
As soon as people leave your store – your website – their interest in your products and services drops drastically. Conversely, the moment they are on your website they are most likely to make a purchase, or at least talk to a sales rep.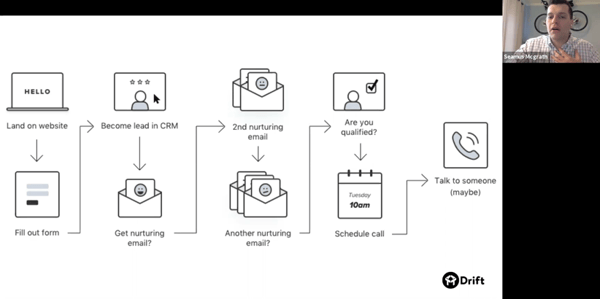 Seamus described how sales and marketing work today: "Look at the journey we are making people go through. Think about how much friction there is in this process."
This is where conversational marketing comes in: it's all about increasing engagement with people that are on your website right NOW.
Remember, every sale starts with a conversation, and chatbots make it incredibly easy for your business to have conversations 24 hours a day, 365 days a year.
3. Tailor the conversation based on the what, the who, the where, the why and the when
Many companies struggle with building a chatbot for the first time. To help with that, Drift developed a conversational marketing blueprint based on five factors: the what, the who, the where, the why and the when.
You should tailor your message to what webpage someone is viewing (homepage, blog, resources, reviews), who they are in your marketing funnel (anonymous visitor, returning visitor, target account, existing customer) and where they are coming from (direct search, organic SEO, ads).
The idea is to optimise the experience for all these different people and make it easier for them to engage, instead of just "passing the same flyer to everyone".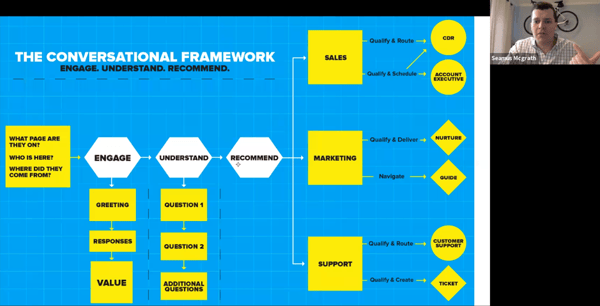 Additionally, you can ask them questions to understand why they came to your website. If they need help with solving a problem, you can offer them information or help them navigate through different areas of your website. If they are in a buying mode, you can direct them to a salesperson or account manager. If they have a problem with your product, you can direct them to customer support, etc.
"If you know the what, the who and the where, you can engage them, greet them, ask them questions, and based on their responses, provide them value," said Seamus.
When do we do all this? The very moment they are on your website, not a day or a week later.
So, what does a good chatbot look like?

In the final third of the webinar Seamus showed our audience what a good, healthy bot looks like:
starts the conversation with a strong opener that hits on a pain point you solve
doesn't ask too many qualifying questions
conveys a clear brand voice throughout the conversation
delivers your value proposition
has a clear CTA (and multiple backups)
doesn't give an easy way out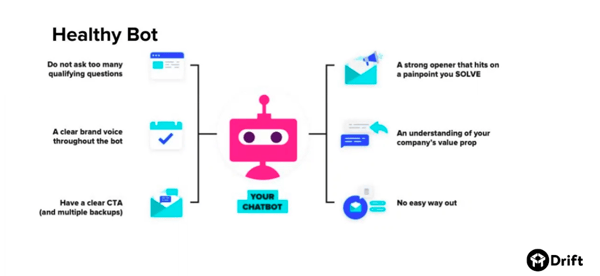 Seamus also took us through real-life examples to illustrate how chatbots can help you nurture your website visitors, respond to your leads instantly, convert more leads, book more qualified meetings and handle your strategic accounts.
But for that you'll have to watch the recording. ↓