Zapis je na voljo tudi v slovenščini
Video consumption has reached an all-time high and continues to rise. This trend has undoubtedly been reinforced by the stay-at-home measures that have led to a surge in overall media consumption, and since video is the preferred medium, it certainly deserves more attention in the B2B world.
Recently, Actuado hosted a webinar on the topic of using video in marketing, sales, and customer service. Our guest speaker was Yaniv Siegel, Strategic Partner Manager at Vidyard, a leading global platform for hosting, creating, sharing, and tracking the impact of personalised video.
If you want to be inspired to start creating videos right away, this is the perfect webinar, so go ahead and watch the recording. Or, if you're one of those people who still prefer reading, scroll on and read the key takeaways.
Why should you be using video in your B2B business?
Video has been the 'king' of content for quite some time: Video content accounted for more than 50% of the downloaded or streamed data as early as 2013; and it looks that it will keep its dominant position in the future – 82% of Internet traffic in 2022 is expected to be video-based.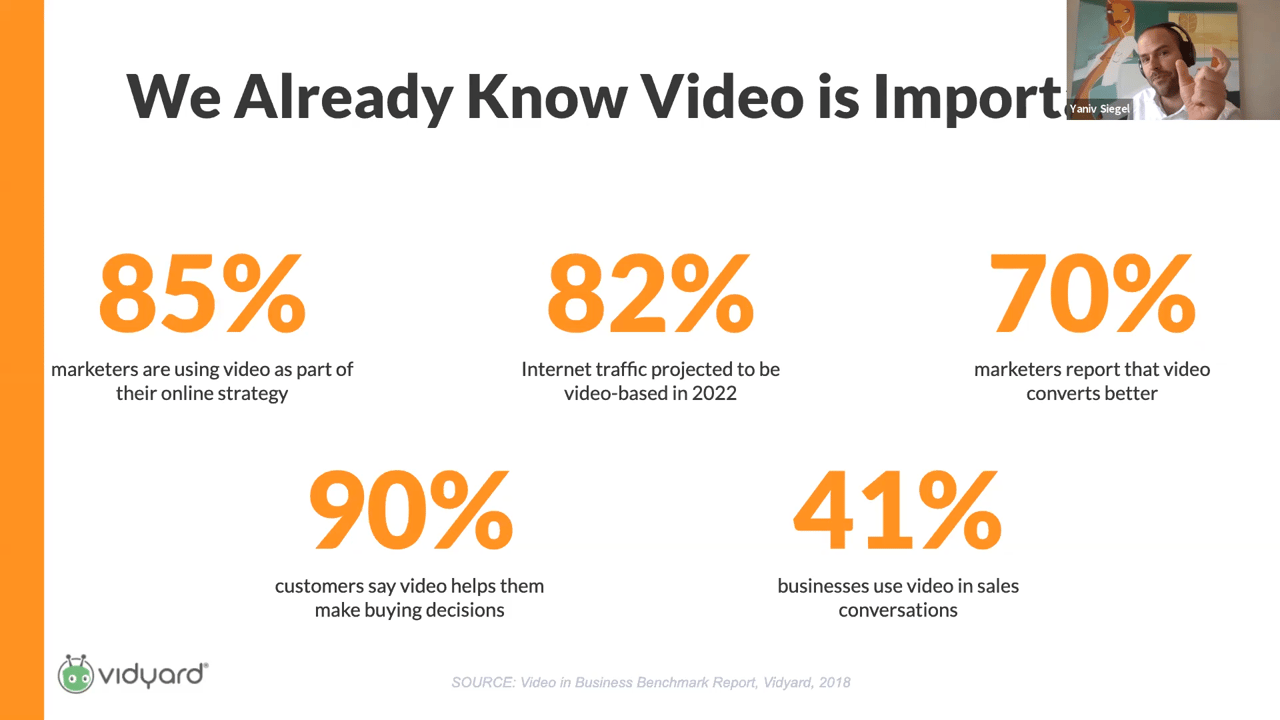 We know that video is more engaging than other types of content, and we know that our (prospective) customers consume a lot of video, so why aren't we using more video in our business to match their behaviour? Yaniv Siegel lists the most common objections:
'it's too expensive',

'it takes too much time',

'we don't have the right resources'.
While it's true that in the past, when options were more limited, video production used up a significant portion of our marketing budgets, modern video platforms like Vidyard have made video content much more affordable and accessible. So-called 'do-it-yourself (DIY) video' creation tools have opened up new ways to improve communication with customers for teams and functions across the entire company, not just marketing.
Yaniv Siegel's DIY video that we shared with our email subscribers to invite them to this webinar:
Yaniv Siegel showed 6 examples of DIY video for all customer facing teams:
c

ustomer communication,

one-to-one video prospecting,

one-to-one video sales,

network communication,

webinars and online events,

internal communication.
Video in the customer journey
If you're familiar with the inbound methodology, then you already know the HubSpot Flywheel model. It shows that the responsibility to attract, engage and delight customers is shared by the marketing, sales and customer service teams. You can use video to address your customers' challenges at all stages of the customer journey, from generating new leads to converting them, and delighting your existing customers.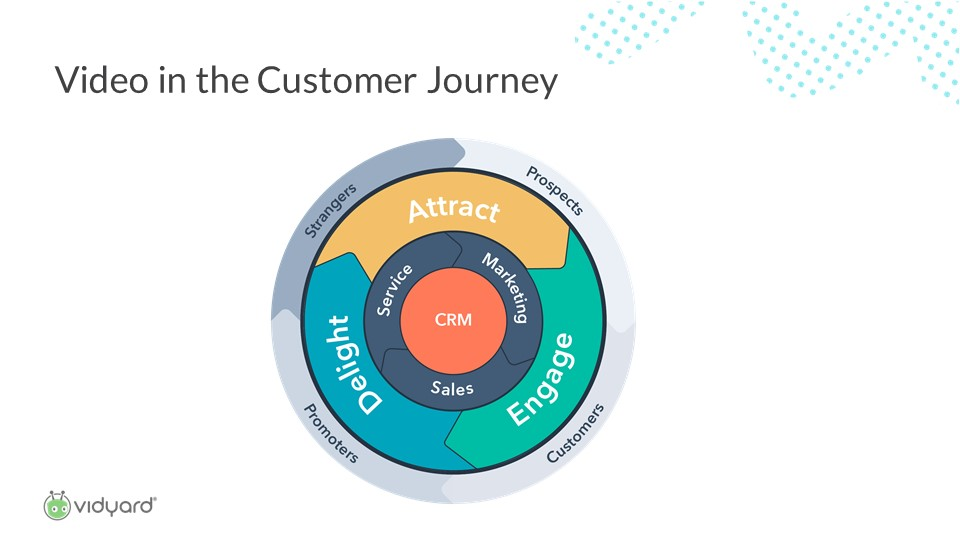 The attract stage is where we turn strangers into prospects and is the function of marketing. B2B marketing has embraced video at least to some extent (85 % marketers say they include video in their online strategy). Examples of effective videos at this stage include webinars and online events, social videos, explainer videos – videos that educate, entertain and build brand awareness.
In the engage stage we start building one-to-one relationships and convert prospects into customers. Your salespeople can send out personalised (one-to one) prospecting, follow up and check in sales videos that stand out in the inbox and create a real and human connection with your prospects. Gmail and Outlook are among the tools in Vidyard's ecosystem of integrated applications, which also include HubSpot, Mailchimp Salesforce, Drift, etc.
The delight stage is the stage in which we can accelerate our business growth the most – nothing beats a happy customer recommending your business to other prospects. To delight your customers you can create and share personalised welcome videos, onboarding videos, product tutorials, FAQ answering videos, best practices videos, and similar types of content that help your customers get the most out of the relationship.
Yaniv Siegel demonstrated the power of sending sales emails with personalised video:
Video for effective internal communication
Do-it-yourself videos are not only a powerful tool for engaging customers, you can also create them for internal purposes. With the coronavirus pandemic, remote working has become a necessity, and many companies are finding that it can be difficult for teams to collaborate on projects when members are not physically present. Vidyard's internal communications tool can be used to share asynchronous video messages and screen recordings among coworkers, which eliminate the need for lengthy email threads and unnecessary conference calls.
Leave the comfort zone and start recording
Video platforms like Vidyard have made creating and sharing video content much easier, faster and more affordable, so it's time to stop making excuses and start recording. Granted, the selfie-style video takes some courage at first, but we promise it will get easier and better with every take. And if you're still not sure how to start, book a meeting with us and we'll help you figure it out.