Zapis je na voljo tudi v slovenščini
According to Chiefmartec there are now more than 7,000 solutions in the marketing technology landscape. One of the most common struggles of today's marketers is choosing the right marketing tool at the right price. There is also no shortage of free tools to help you optimise your business and make your marketing communication more efficient. Among the most popular are HubSpot and Mailchimp – we are using both, both for ourselves and for our clients. We have compared the free features of HubSpot and Mailchimp, take a look which one would better suit your needs.
Who can benefit from Mailchimp and HubSpot?
While Mailchimp is a simple, user friendly platform primarily intended for e-mail marketing, HubSpot is an inbound marketing platform that integrates marketing, sales, and customer service under one roof. Both tools come with free versions and paid upgrade options based on the needs and requirements of your business.
Mailchimp is a basic, user-friendly email platform aimed at small and medium-sized companies. In addition to comprehensive email automation services, Mailchimp offers landing pages, forms, social media posts and ads, postcards, ...
HubSpot is designed for companies that need a platform that allows them to conduct a range of marketing activities in one place: Create blog posts, social media posts and ads, send email campaigns, set up landing pages, perform website optimization and much more.
What is in HubSpot's and Mailchimp's free packages?
Both platforms can be used free of charge, with limited features that might be sufficient for smaller companies for a while.
Mailchimp's free plan used to offer more features, but these were limited last year, with the most notable changes being a smaller selection of email templates and a single audience list. In addition to basic features, HubSpot's free CRM now includes an email marketing tool for sending automated and personalised emails.
Mailchimp has a Forever Free account, a free plan that has no time limit. HubSpot offers free CRM – free marketing, sales and service packages (the service and sales packages are very similar). All packages can be upgraded with a paid monthly or annual plan, depending on the needs of your business.
Mailchimp
HubSpot

Forever Free plan includes up to 2000 contacts and offers the following features:

One audience (one list of subscribers)
Marketing CRM
A limited selection of basic email templates
Marketing channels: email, landing pages, social posting, pop-ups, postcards
Single step email automation
Basic reports and smart recommendations
Integration with 200+ apps

Free CRM tools:

Contact management, companies, deals, tasks and activities
Contact website activity
Gmail and Outlook integration

s

Email templates, sending and tracking

Free marketing tools:

All features of HubSpot CRM
Website forms
Pop-ups
Email marketing
Social media ads
List segmentation
Integrations (Messenger, Zoom, Slack etc.)
Reporting dashboard

Free sales tools:

All features of HubSpot CRM
Live chat
Conversational bots
Calling
Conversations inbox
Email scheduling
Meeting scheduling
Both platforms offer free educational content (videos and articles). HubSpot also has an academy that provides free online training and certifications. In addition, HubSpot offers free assistance via community.hubspot.com, while the paid packages include excellent support via email, call and chat.
HubSpot allows a greater number of contacts and lists, both have good segmentation
With Mailchimp's free plan you can send up to 1,000 e-mails to up to 2,000 recipients per month. With HubSpot you can store up to 1,000,000 contacts, but the number of emails you can send per month is limited to 2,000. You can send multiple emails to smaller lists, but the number of emails sent must not exceed 2,000 in a calendar month.


Mailchimp's free plan: up to 2,000 contacts & up to 10,000 emails per calendar month.
HubSpot's free plan: up to 1,000,000 contacts & up to 2,000 emails per calendar month.
Mailchimp allows free account holders to have only one audience list (but it is possible to divide people into smaller segments or groups within this list). With HubSpot's free plan you can create up to 5 smart lists and up to 25 static lists, and segment your contacts based on their form submissions, contact information, or email activity. You can also segment based on the properties you have assigned to the contacts.
In Mailchimp, you can organise your subscribers by contact details (location, language, landing page activity, …), groups within lists, email engagement, tags, and custom fields.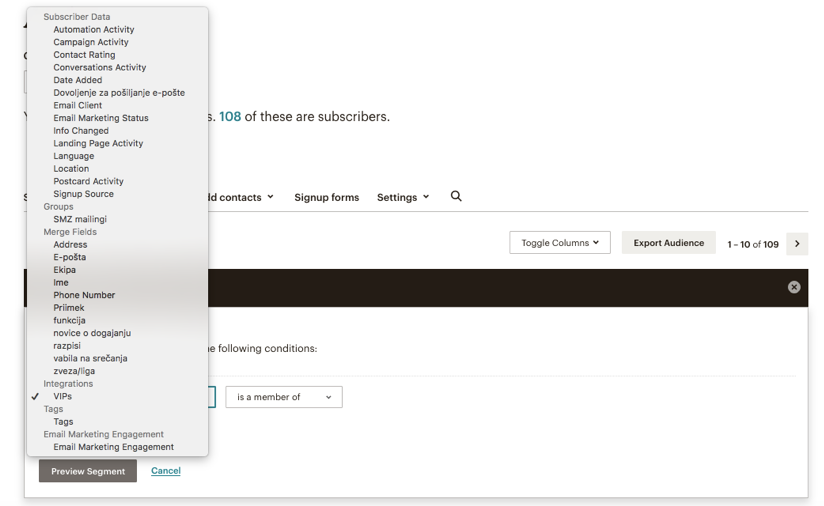 Segmentation in Mailchimp
Email sending and automation
Mailchimp's free plan includes more than 10 templates, while HubSpot offers 5. They are created with a drag & drop editor on both platforms.
If you want to go one step further and create workflows, this is unfortunately not possible with HubSpot's free packages. Mailchimp has also limited its email automation features – you can only create simple two-step automations, e. g., you can send an automated email to someone who subscribed to your blog, but you cannot trigger a new email from here.
HubSpot's CRM system is better
Mailchimp and HubSpot both offer CRM systems that give insight into contact data, such as email, name, surname, company, email opens, link clicks and more. HubSpot also lets you track a contact's activity on your website: page views, form submissions, sales activity and more.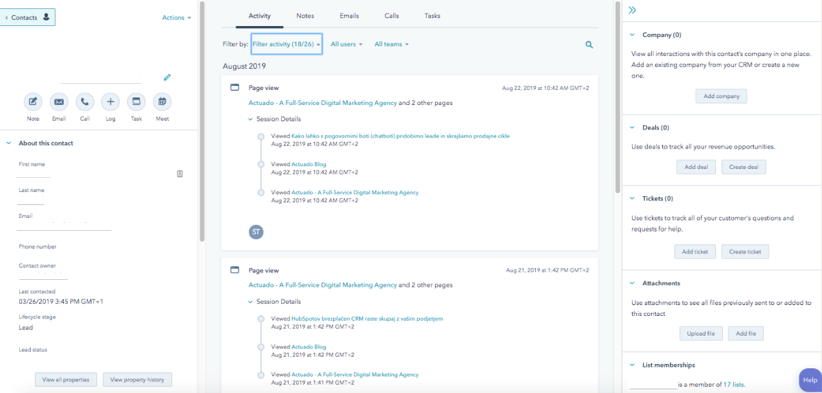 In the HubSpot CRM you can track contacts' page views
HubSpot offers even more features. You can store all communication with your customers in one place. You can store, track, manage, and report on the deals your team has completed. You can call customers through VOIP, and the call is recorded and automatically logged in the contact record (this feature is however not available in all countries).
HubSpot also helps you plan and schedule meetings: You can share a link with your contacts that lets them see when you are free and allows them to book a meeting with you, bypassing all those 'what time works best for you' emails. For a better overview of your tasks you can store, track, manage and report on them, so that nothing slips through the cracks.
Both platforms offer free pop-up forms, but landing pages are free only for Mailchimp users
Landing pages are included in the Mailchimp's free plan, while in HubSpot that requires the Professional package. You can choose from 8 templates and create your landing page with a drag & drop editor.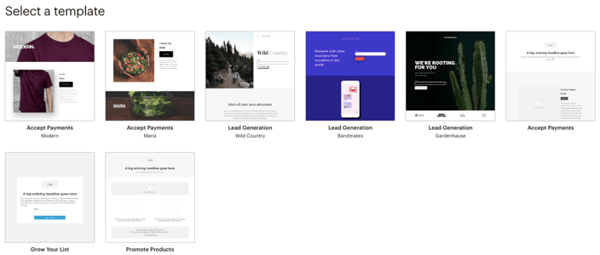 Landing page templates in Mailchimp
Users of both platforms can create free pop-ups and other types of forms. HubSpot's has pre-designed templates for pop-up forms to which you can add your own text and photo. You can select these four fields: Email, first name, last name and phone number. HubSpot provides templates for registration forms, newsletter subscription forms, e-book download forms, event sign-ups and 'contact us' forms. You can also customise forms with a drag & drop builder. You can add these forms to your website and track how many people have filled them in within HubSpot. The collected information is automatically logged in the CRM.
Mailchimp users can create pop-up forms, sign-up forms on landing pages and custom forms that you can embed on your website. The latter only have fields, you cannot add a photo. The most customisable are pop-up forms that allow you to play with the design.
Social media posting and advertising
Mailchimp's free plan includes a social media management tool for scheduling and publishing posts on Facebook, Instagram and Twitter. To do that in HubSpot you'll need to upgrade to the Marketing Professional plan.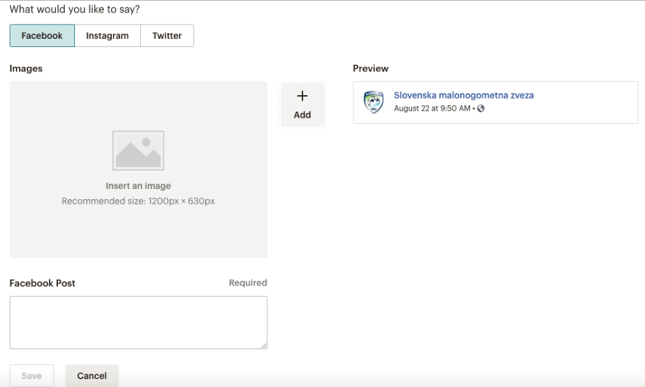 Posting on Facebook with Mailchimp
Mailchimp's free plan lets you publish organic and paid social media posts, while both platforms offer advertising tools in their free versions. Limitations? Within HubSpot's free CRM you can create lead generation types only, connect only two channels (Facebook, Google or LinkedIn), and spend up to $1,000 per month. Within Mailchimp you can only manage ads for Facebook and Instagram.

Creating a Facebook add with HubSpot
HubSpot's chatbot
By now you have probably noticed chatbots, bots that pop up and initiate a conversation when you visit a particular website. Chatbots are very effective in shortening sales cycles and identifying leads. In the free CRM account HubSpot offers a chatbot to help you with booking meetings, ticketing and lead qualification, but if you want to create chat flows (follow-up conversations based on visitors' responses) you will need one of HubSpot's paid packages.
In a recent Actuado webinar, Seamus McGrath from Drift explained why chatbots are such a powerful marketing tool - also in the B2B environment.
What about analytics?
Like any modern marketing tool, HubSpot and Mailchimp include analytics. If we run campaigns, but don't measure their results, how can we know what works and what doesn't?
Mailchimp gives you insight into each separate campaign. You cannot create a report with custom metrics, you can only download a one-page overview of the individual campaign.
Let's take an example of a sent mailing: We can see the number of recipients, email open and click rates, bounced emails and unsubscribes, links with the most clicks, people with the most opens, social media posts performance and more.
HubSpot's free users get insight into email campaigns, while HubSpot's marketing, sales and services dashboards also include analytics. Email campaigns analytics is similar to the one in Mailchimp, the difference is that in HubSpot you can also see detailed information about opens and clicks by device type, and you can choose a specific time frame for a report.
HubSpot's marketing dashboard shows you an overview of your contacts, their source (e. g. form submission), bounces and email performance. The sales dashboard shows you sales performance, the contacts assigned and processed by your team's sales reps, and the number of deals created and closed. You can see all these metrics in a given timeframe.
Both platforms offer decent basic analytics for free, but if you need more detailed insight into your email marketing performance, you need to upgrade your plan.
Mailchimp vs. HubSpot: free feature comparison overview
Mailchimp
HubSpot

Number of users

1

unlimited users

Contact management

√

- up to 2,000 contacts

√

- up to 1,000,000 contacts

Email planning and sending

√

- up to 10,000 sends per month

√

- up to 2,000 sends per month

Email templates

√

- more than 10 templates

- drag and drop editor

√

- 5 templates

- drag and drop editor

Segmentation (lists or segments)

√

- a single list

- detailed segmentation

√

- up to 5 smart lists and 25 static lists

- detailed segmentation

Email automation

√

- single-step automation

X

Conversations inbox

X

√

- 1 inbox

Contact website activity

X

√

- page views, form submissions, purchases and more

Company insights

X

√

- company information and communication storing in one place

- business deals storing, tracking, managing and reporting

Tasks and activities

X

√

- storing, tracking, managing and reporting on tasks and activities that make up your relationship with the customer

Calling

X

√

- call customers through VOIP (available in selected countries only)

- Calls can be recorded and auto-logged on the contact record for future reference

Documents

X

√

- upload up to 5 documents and share them with your contacts

- response insight and feedback

Meeting scheduling

X

√

- sharing a link with contacts that lets them see when you're free and book meetings with you (cutting out 'what time works best for you' emails)

Forms

√

- pop-up forms

- other types of forms with additional limitations

√

- pop-up forms

- other types of forms with additional limitations

Pop-up forms

√

- custom fields

√

- NO custom fields

Landing pages

√

- 8 landing page templates

- drag and drop editor

X

Web page creation

√

- custom made domain name

- drag and drop editor

- website analytics

X

Social media ads

√

- Facebook and Instagram ads

√

- up do 1,000 USD spending per month

- only two SM channels (Facebook, Google or LinkedIn)

Social media posting

√

- Facebook, Instagram, Twitter

X

Postcards

√

- design, print and send postcards to 27 countries for 0.75 dollars per card

X

Integrations

√

√

Analytics and reporting

√

- basic analytics, NO custom-made reports

- smart recommendations

√

- reports for a specific timeframe

Live chat

X

√

- 1:1

Conversational bots

X

√

- ticketing and lead qualification, booking meetings, NO chat flows
So, which is better? Mailchimp or HubSpot?
The answer to this frequently asked question is not straightforward, since the platforms do not offer the same (free) options. We would recommend Mailchimp to companies that focus on email marketing and send large volumes of emails, as it has limited single-step automation in addition to its simple landing pages.
Companies that need a strong CRM system, are engaged in numerous marketing activities, want to integrate their marketing, sales, and service operations, and at the same time have an excellent foundation for growth, would be better served by HubSpot. The platform offers an overview of all contact data in one place, while the paid plans provide a very powerful platform for inbound marketing, sales, and services. To take advantage of HubSpot's additional features (where you can send at least 5,000 emails) we recommend the €46 per month Starter package.