Zapis je na voljo tudi v slovenščini
Although some people declared it 'dead' already a decade ago, email remains one of the most important marketing tools in 2020. According to 2020 B2B Marketing Mix Report, email marketing is the most commonly used marketing tactic – a large majority (84%) of respondents said they have implemented it.
We are often asked about the effectiveness of email campaigns, so we dedicated an entire webinar to best practices of email marketing. You are welcome to watch the recording, but as it's in Slovenian, we wrote a summary for those of you who don't speak the language.
Email address is the key currency of inbound marketing
Premium content such as guides, e-books, case studies, reports, webinars, etc. are usually available free of charge, but in fact users 'pay' for them with an email address. We offer them content in exchange for an email address and their consent to send them newsletters and updates, to track them on our webpages and, most importantly, to segment them into meaningful groups. Based on segments, we can create content that's significantly more effective.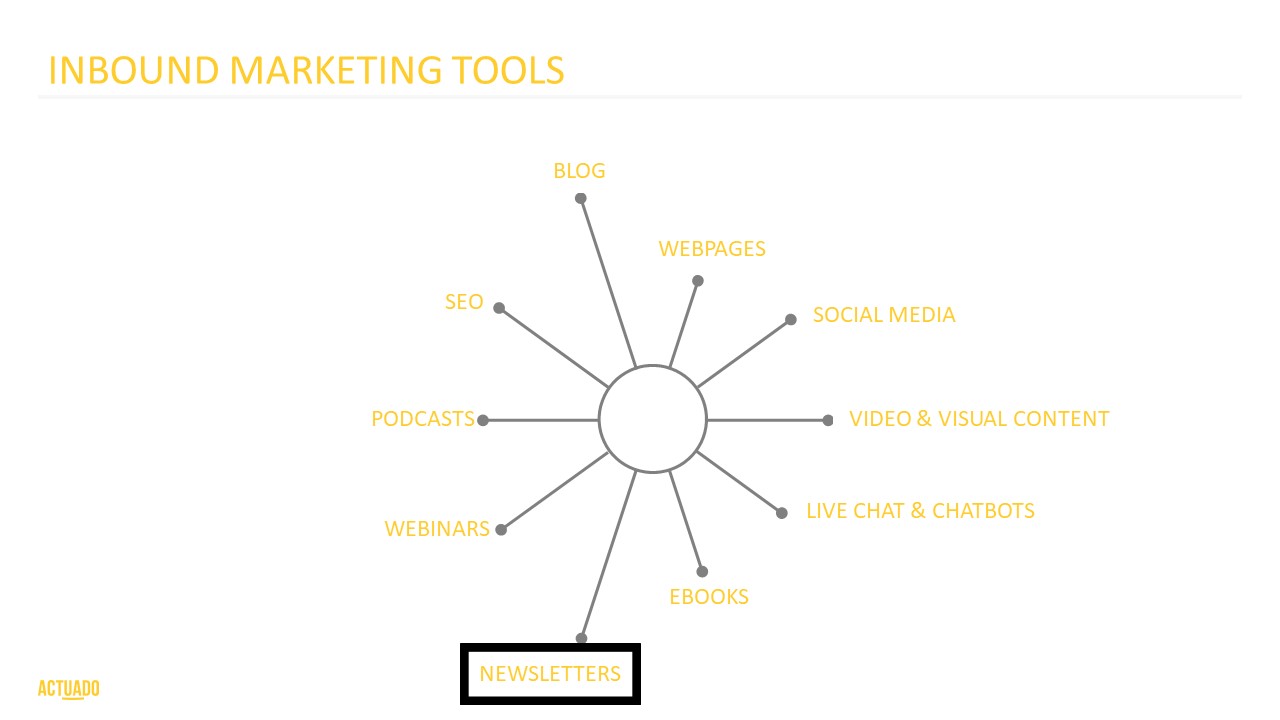 Email marketing doesn't work in a vacuum, inbound marketing tools must integrate and work together. The customer should be in the centre of all activities.
How to improve email open rates
In the B2B environment, on average a good fifth of recipients open e-mails, although the percentage varies from industry to industry.
Factors that have the greatest influence on e-mail open rates are the sender name, the subject line and the preview text.
For most recipients, the sender name is the most important factor in deciding whether or not to open an email. You'll generally be more successful if you send emails from a real person, instead of just using the name of your company.
The second most important factor is the subject line – it should be short and concise, yet interesting enough to grab your recipient's attention.
The final (and often overlooked) chance to convince recipients to open your email is the preview text. In regular emails, what appears in the preview text is simply the first line of your message, but if you're using an email sending platform like HubSpot, you can add a custom preview text and strategically craft it. The preview text allows more characters than the subject line, but the number of characters displayed depends on the email client and the type of device used by your recipients.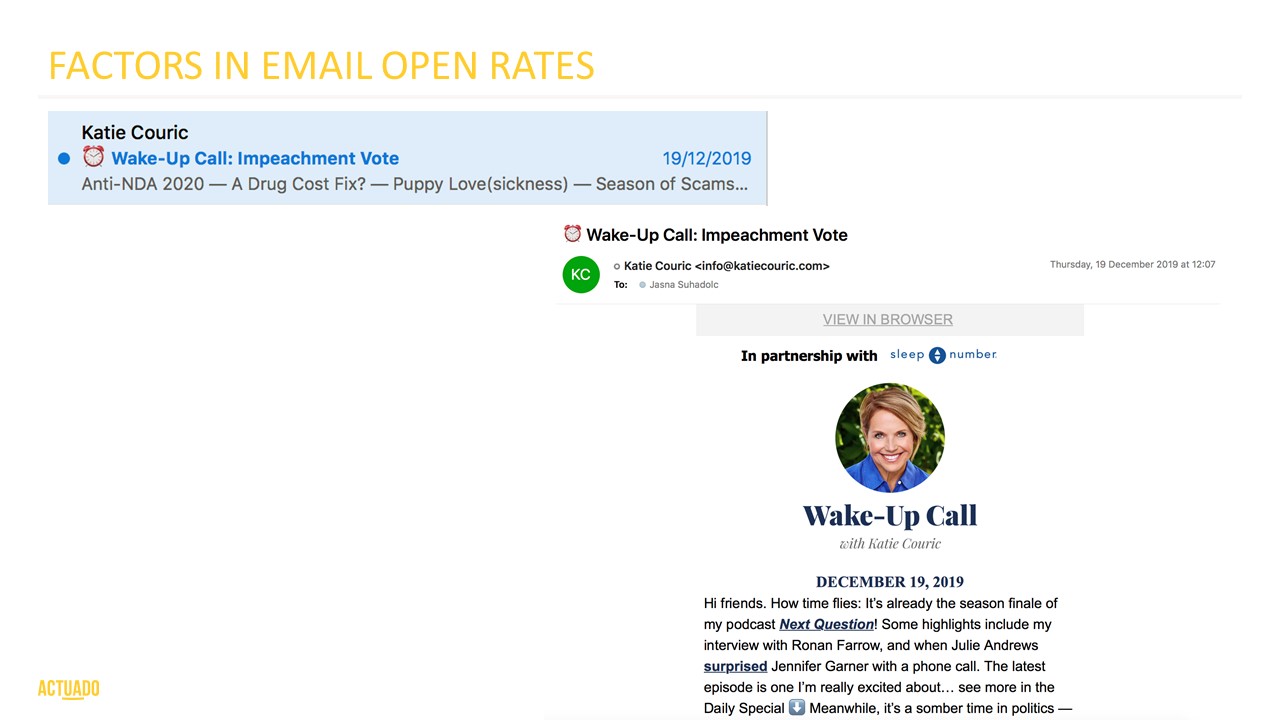 Factors that have the greatest influence on e-mail open rates are the sender name, the subject line and the preview text.
What is the best time to send emails?
We hear this question often, but as there is no universal answer, we usually advise our clients to test different days and hours and adapt as much as possible to the habits of specific target groups.
Email marketing trends in 2020
As you've probably noticed, newsletters come in many shapes and forms. More and more newsletters in B2B marketing look like standard ('plain text') emails, with the emphasis on text and a simple design.
The experts at Drift emphasise that the goal of email marketing is to build and strengthen relationships through communication, so they swear by emails that feel like they are coming from friends or family members (people we trust). That doesn't mean you have to avoid photos, animations or emojis altogether, but you should be careful not to overdo it.
An example of a sales email from Drift: the sender is a specific person (one of their sales reps), the tone of voice is informal and friendly, the text is short and simple, and it closes with a question that invites a response. The email also contains a link to a video where we get to know the sender better, and we can even start a conversation with him with the help of a chatbot. (You can read more about chatbots in one of our previous blogposts.)
As a certified Vidyard partner, we created an 8 week video sales program to help your sales teams use video in a range of different scenarios.
Most emails are opened on a mobile device
Today, more than a half of all emails are opened on a mobile device. If your email doesn't display correctly on a mobile device, it's most likely going straight to the bin, so design your emails to look good on a smaller screen. Keep the copy short and concise, use larger fonts and CTA buttons, and use appropriate image sizes. Before you hit the send button, always test how your email looks in different apps and devices that each have their own quirks.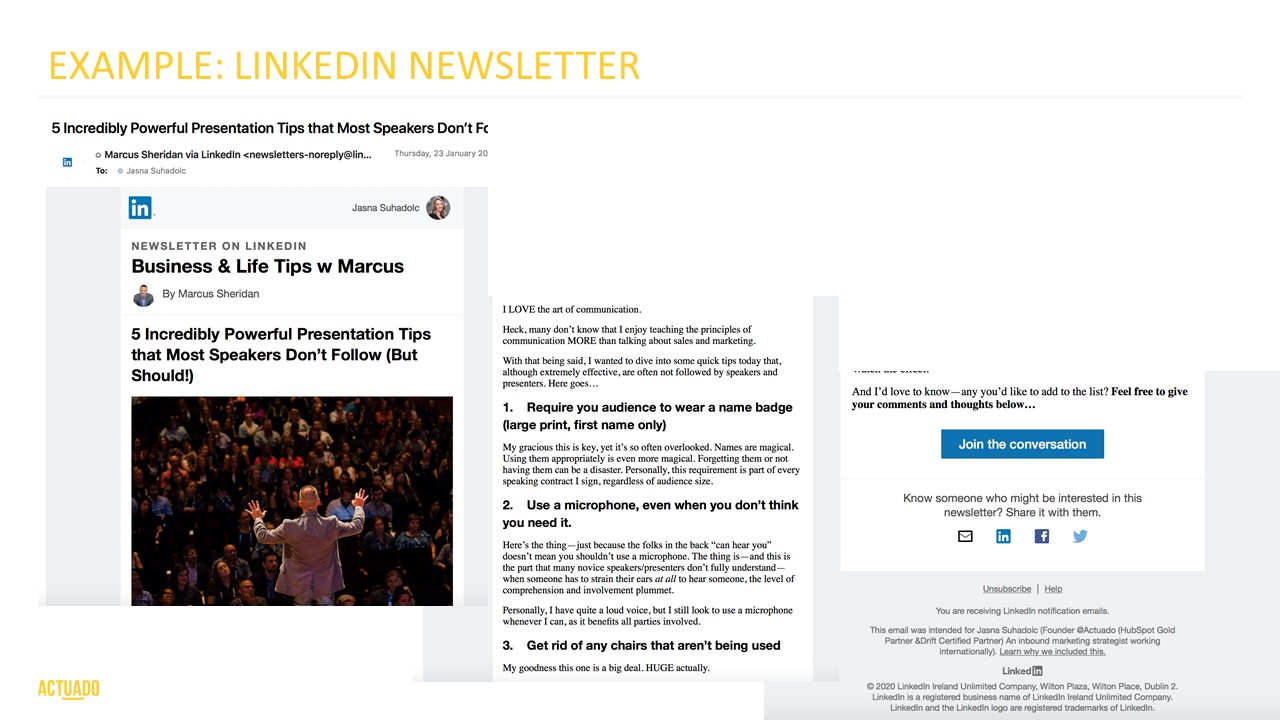 This email from LinkedIn contains a CTA button that invites recipients to join the conversation – which is after all what email is all about.
Personalisation is more than using the recipient's name
While including a person's name in an email, as well as signing the email with your own name, help personalise your campaigns and create a more genuine contact, it is not enough. Your content should be relevant to your readers, so you must first segment your list into groups and then address the specific needs and interests of each group.
When you use HubSpot, you can also create automated email workflows that can get triggered in a number of ways, for example, when a contact views the pricing page of a product for the third time, an email about that product is triggered.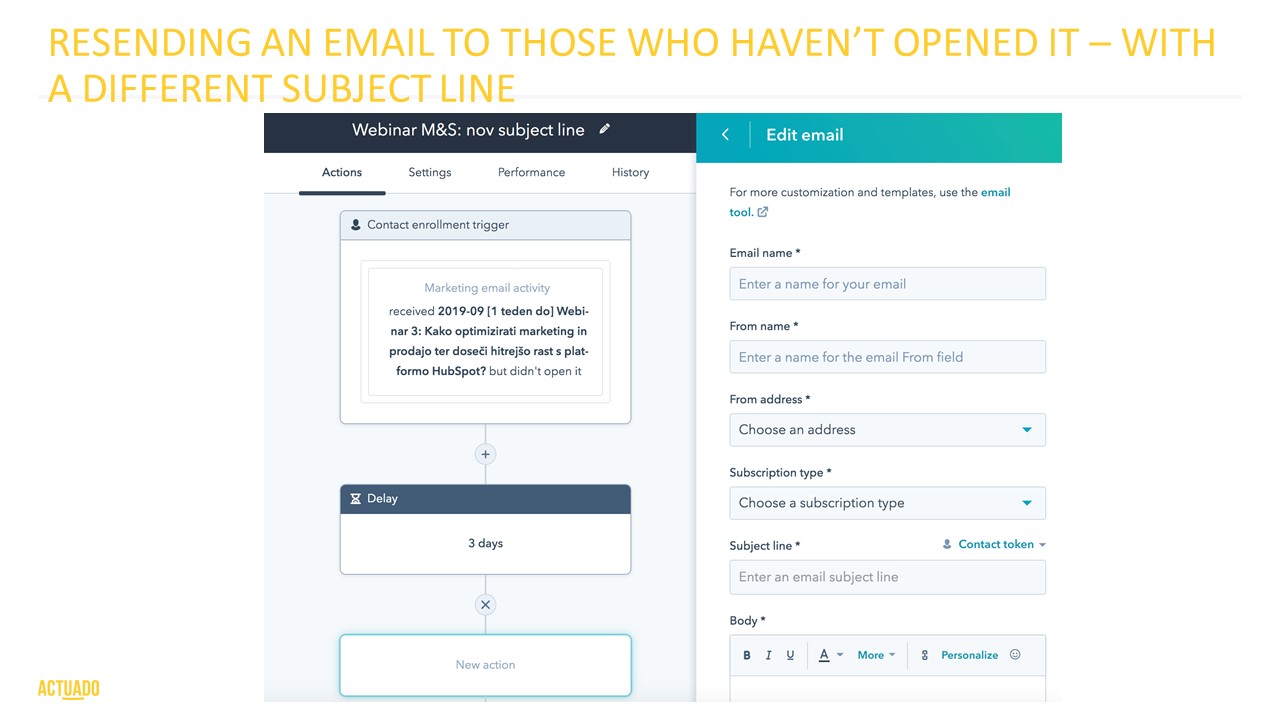 HubSpot allows you to send different content to different segments, whether you want to change the entire message or only some elements. You can also set up automated resending emails to those who haven't opened it, using a different subject line.
HubSpot's email marketing features that you need if you work in marketing or sales


Snippets
Snippets are short, reusable text fragments that you create in advance and easily insert into your emails (and edit as needed). Not only do they help you save time, but with snippets you can also ensure, for example, that everyone on your sales team uses the same opener when contacting a specific audience.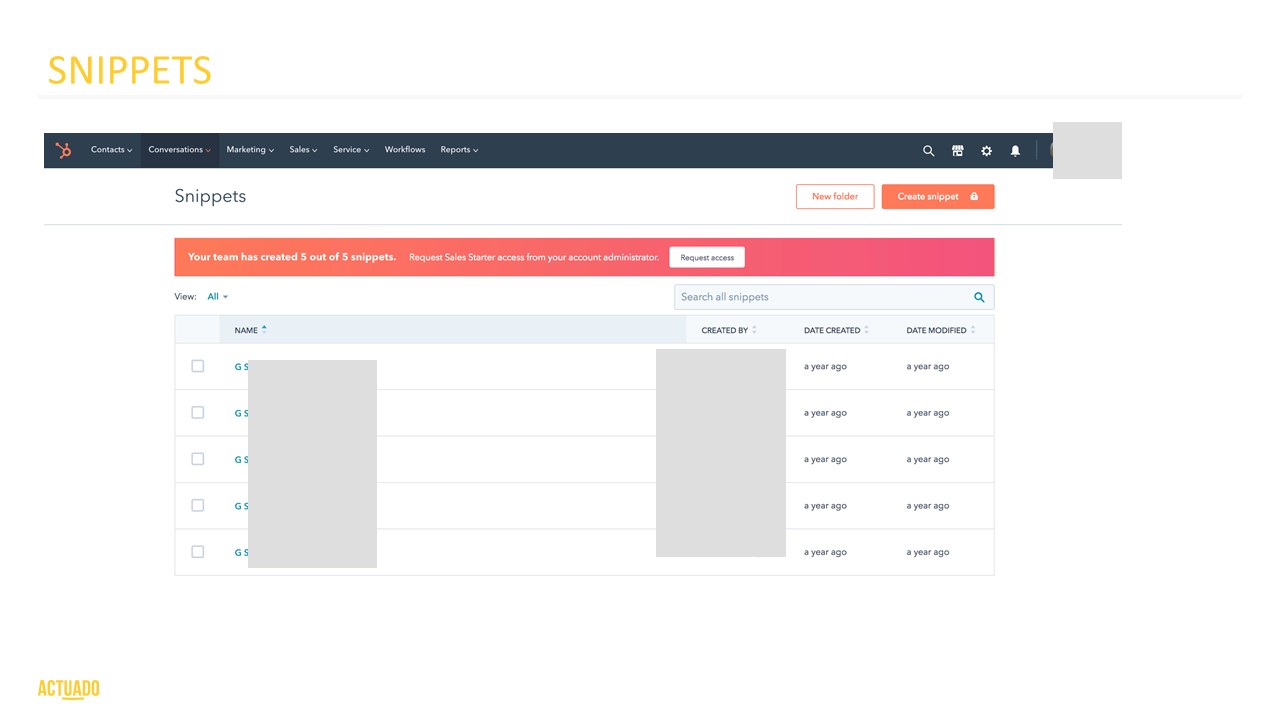 Templates
Templates are prewritten and preformatted emails that you either create yourself or select from HubSpot's template library. Editing templates in HubSpot is easy with the intuitive drag and drop editor, and you can also add preformatted snippets. Templates are primarily intended for salespeople to save time when writing emails, but they can of course always add their own text to the template.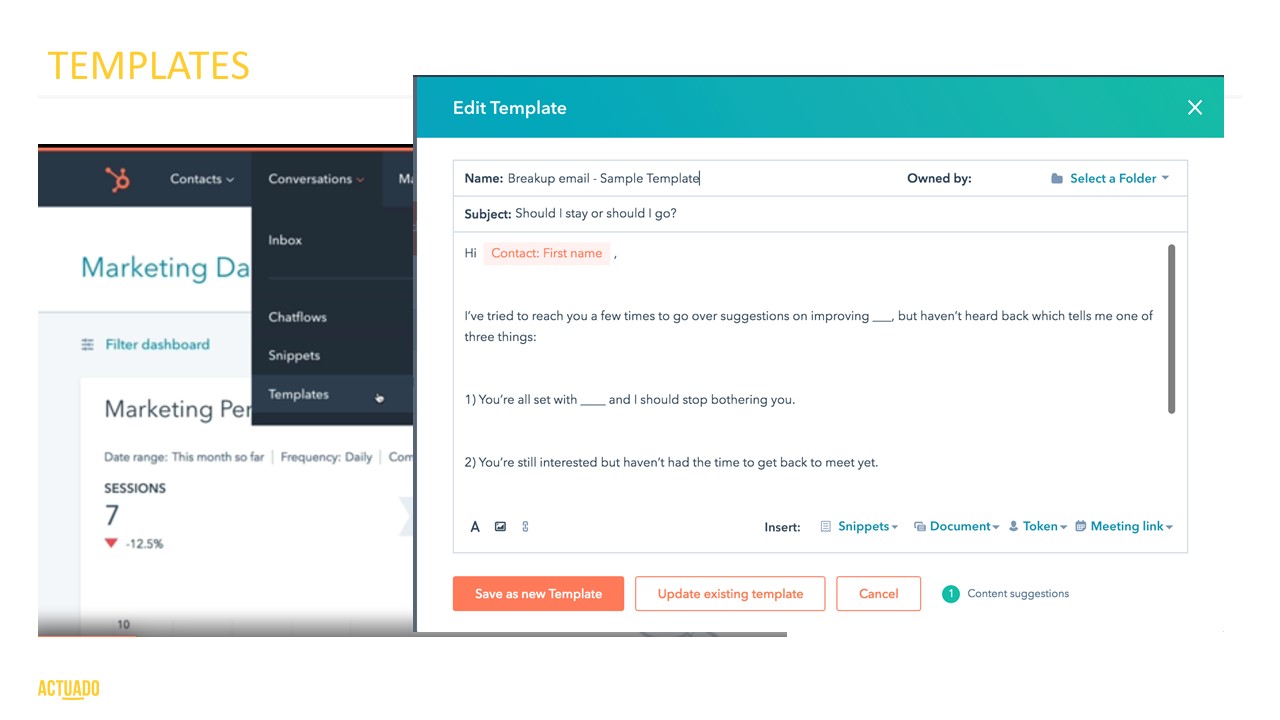 Sequences
Sequences are a series of targeted, timed emails that you send in a predetermined order within a certain timeframe. For example: You have attended a business conference or trade fair and gained a lot of new contacts. You can create three follow-up emails that will go out in a specific timeframe. The first email is sent to everyone, while the second and third emails are only sent to those who haven't yet responded.