Zapis je na voljo tudi v slovenščini
By now you must have noticed that many websites and applications feature conversational bots, programs that ask users short questions and provide them with relevant information or help them with simple tasks. While users find chat bots useful and entertaining, marketing and sales teams can use them extremely effectively to segment potential and existing customers, qualify leads and streamline work processes by automating simple routine tasks.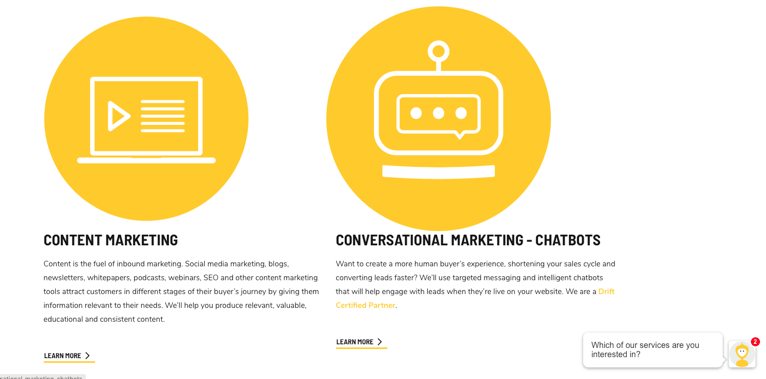 Last year, Actuado began developing conversational bots (chatbots) on the Drift platform to achieve various marketing and business objectives. We hosted a webinar on the topic of conversational marketing (in Slovenian), where Jasna Suhadolc showed us the basics, as well as more advanced features of chatbots and their use cases.
What is conversational marketing?
Think about how you usually communicate with your loved ones. When we are not face to face with someone, most of us resort to the most convenient and quickest way to talk – chat and messenger applications. This is proven by the numbers of users of WhatsApp (1.5 billion), Facebook Messenger (1.3 billion), Viber and other messaging tools.
Marketing is most effective when it adapts to people's communication habits and finds them in their natural environment. In order to provide users with important information in the way that is closest to them, various platforms for chatbots have emerged. Using predefined scripts or machine learning, chatbots are able to identify the needs of website visitors and app users and offer them relevant information or services through the conversation.
Chatbots supplement your marketing and sales efforts
Having chatbots appear on your web pages is an excellent upgrade to an existing communication channel. Chatbots are particularly effective if you have a lot of website traffic, as they help you get to know your visitors and move them further down the sales funnel. When it comes to complex online portals, chatbots can help users navigate to the information they need. Editors can use the collected information to optimise and improve the structure of the online content.
Chatbots strengthen the alignment between marketing and sales teams and bring very good results before, during and after the purchase. They ask users short questions to identify their needs and qualify them. Leads with a high purchase intent are routed to a salesperson or consultant, others are segmented into groups – depending on where they are in the sales funnel, what offers they are interested in or other parameters – and offered additional information (lead nurturing).
Design your bot
There are already quite a few conversational marketing platforms on the market. Actuado uses Drift, which integrates with HubSpot, as well as with Google or Office 365 calendar tools, and is therefore a powerful platform for chatbots that, if planned carefully and strategically, perfectly supplements your marketing and sales efforts.
Although you want users to talk to the chatbot like they would to a real person, you should always be transparent about the fact that they're talking to a bot. When it comes to naming the chatbot, businesses usually use their company name, and use an avatar that matches the brand image. For example. our chatbot is called simply ActuadoBot. Another important part of the conversational marketing strategy is designing your chatbot's personality. If the general tone of voice of your business is formal and serious, your bot should also use a more serious tone (you can however still use emojis). Companies that communicate in a more laid-back manner can give their chatbot a more playful and lively personality, like DriftBot with its "Checking me out? 😉".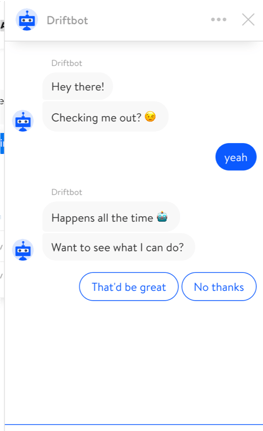 Writing conversation scripts
Chatbots help users by guiding them to their goals, and marketing and sales teams by generating leads. The effectiveness of chatbots largely depends on the content of the conversations. There are various factors to take into account when writing conversation scripts:
What page of your website they came to (a specific page, a series of pages)
Information about users you already have (how many pages they've visited, time since last visit, how long they stay on a page, their location, answers from previous conversations, etc.)
Where the users are coming from (social networks, search engines, events, direct, etc.)
The content you wish to highlight
User behaviour at different stages of the sales funnel

Time of the visit
Chatbot scripts are based either on a multiple choice system, where users answer your questions by selecting one of the predesigned button responses, or on a keyword matching system, where the chatbot is taught to recognise and respond to keywords that visitors use when answering open-ended questions. Each answer sends users on a unique path towards a final goal (a CTA, booking a meeting, etc.) You shouldn't ask too many questions (three or four are enough) or offer too many answer options, thus making it more complicated for users to answer. Your chatbot should have a more of an advisory rather than a 'salesy' tone – people often turn to chatbots in the consideration phase when they are still looking for information.
Conversational marketing is not just for B2C companies. Chatbots are becoming a key marketing tool in the B2B context. Find out more in our webinar with Seamus McGrath from Drift:
Chatbots are available 24/7
One of the main advantages of chatbots is that they are always available, even outside business hours. There are two basic chatbot modes:
during business hours (online hours) and
outside business hours (offline hours)
During business hours, the chatbot can route visitors that were qualified as leads (based on their answers) directly to salespeople or consultants who can continue the live conversation with information they already have about the lead. If no one is available, the chatbot can ask them to leave their contact information so that they can be contacted as soon as possible.
Chatbot can 'step in' and talk to users outside business hours, when the right person from your team is temporarily unavailable, and sometimes during business hours when the website has a lot of traffic and you only want to talk to sales qualified leads. The chatbot can be designed to answer basic questions and route users to the right department for more complex questions. Many people would rather give data to a chatbot than write an email or fill out a contact form.
Customise the message to the pages that users are looking at your website
Knowing what pages of your website users are looking at is actually a very useful piece of information – it tells you where in the sales funnel they are currently at.
Homepage: Users have heard about your brand and came to see who you are and what you're offering.
Offer/product presentation page: Users are looking for specific information about your products or services in order to make a purchase decision.
Blog: Users are aware of their needs and are looking for solutions (this is still a broad field of inquiry).
Contact, pricing: These pages are visited by users who already have a high intent in purchasing your product or service.
By placing chatbots on these pages and tailoring the message to the needs of the user in a specific stage of the sales funnel, you can convert website visitors into customers faster.
You can also qualify visitors by creating a so-called driftlink, a custom hyperlink, where a keyword (e.g. #AdA) is added to URL's used in ads, social media posts, emails and other sources, leading to a website with a chatbot. Driftlink triggers the chatbot conversation, which greets users with a customized script that takes into account the source of the visit.
Personalise the conversations
If you already know the user's name, e-mail address or other information, you can customize the conversation they see to their unique characteristics and needs. You can use the information to make it easier for them to register to events or mailings or provide them with additional information about an offer they were looking at.
Consumers are four times more likely to prefer using a chat box over speaking to a human.
Have chatbots organize meetings with your leads
You can integrate your Office365 or Google calendar with Drift's conversational marketing platform and let qualified leads book a time on your salespeople or consultants' calendar. Your employees control which days and times they're available, while the chatbot ensures that there are no double bookings. Leads can book meetings outside working hours, so that when your team shows up at work, the meetings already appear on their calendar. This feature also significantly cuts down the time spent on arranging meetings.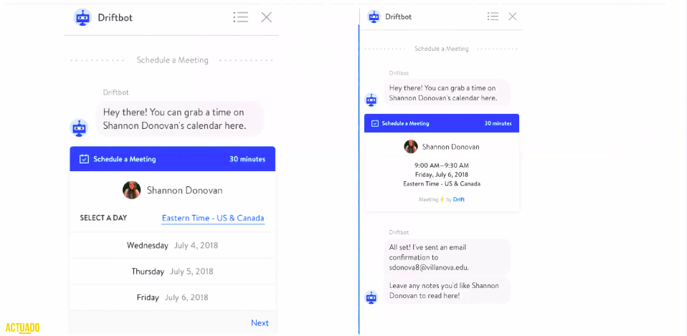 Optimise your chatbot
Chatbot conversation are a valuable source of knowledge about your customers' expectations and habits. It's important to keep a close eye on their responses and customise the chatbot messages accordingly.
Reasons for optimisation can be:
Various marketing or sales campaigns

Personalising conversations, based information about users you already have

Insights and analytics

Users' responses
If you ask visitors open-ended questions, you need to regularly monitor their responses and update the list of keywords that trigger further responses from the chatbot. Another important starting point for script optimisation is also looking at which point in the conversation most users leave the conversation, so you need to keep track of interaction statistics.
Webinars
If you are interested in conversational marketing and want to learn more about chatbots, check out our webinars How to Gain Leads and Shorten the Sales Cycle Through Chatbots (in Slovenian) and You Think Chatbots Don't Work in B2B? Think Again!
You're also invited to talk to our ActuadoBot 😊.